ENN POWER
ENN Energy Power Technology (Shanghai) Co., Ltd. (hereafter referred to as ENN Power) is a high-tech innovative company founded in 2013. Affiliated to ENN Group, ENN Power is focusing on the development and industrialization of micro and small gas turbines as a professional distributed energy system core energy equipment supplier and solution provider.
ENN Power has more than 400 employees, of which nearly half are R&D personnel, including professional and technical personnel in aerodynamics, combustion, structure, heat transfer, control, testing, process and other fields, as well as gas turbine craftsmen with a complete range of work types, efficient operations and skilled skills. ENN Power is building a world-class gas turbine development and manufacture center in Lingang Special Area, Shanghai for development of serialized gas turbines and production of small gas turbines. Besides, ENN Power has built an intelligent manufacture center in Langfang, Hebei for mass production of micro gas turbines with a production capacity of2500 units per year.
sets
Annual production capacity
R&D platform of micro and small gas turbines
Over the past few years, ENN Power has achieved full-cycle R&D, intelligent production and engineering services from micro to small gas turbines. ENN Power undertakes the National 973 Science and Technology project and Shanghai's major science and technology projects, and has passed ISO9001 quality management system certification and ISO14001 environmental management system certification. The micro and small gas turbines developed by ENN Power have completely independent intellectual property rights. ENN Power has obtained international CE certification, Det Norske Veritas (DNV) performance certification, and nearly a hundred patent authorizations, which is at the leading level of domestic industry.
View IP details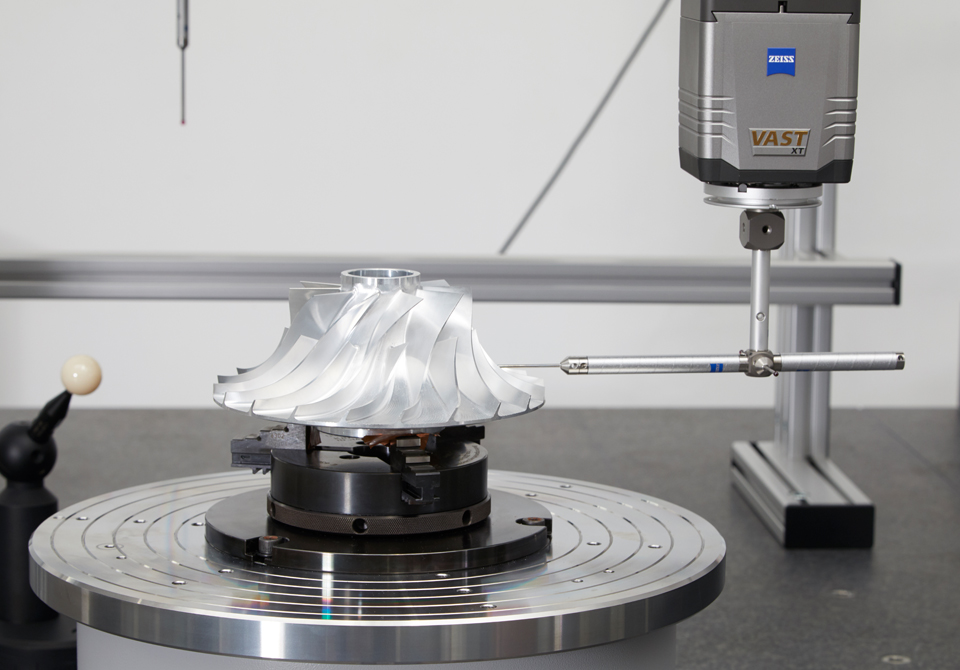 ENN Power's ubiquitous energy solution based on gas turbines can achieve overall utilization of system energy with demand orientation, adaptation to local conditions, and the principle of tiered utilization. Commercial applications have been realized in many fields such as industry, commerce, oil and natural gas exploitation, and low and medium calorific value fuel utilization. The comprehensive energy utilization efficiency can reach more than 90%, helping enterprises to reduce costs and increase efficiency while meeting national energy conservation and environmental protection requirements.
ENN Power has been paying attention to and empowering enterprises to make a comprehensive green transformation in high-quality development. Adhering to the ENN approach of stemming from customers, helping each other succeed, and creating an ecosystem together, focusing on the needs of various industries for energy conservation, emission reduction and low carbon, and featuring world-class gas turbine R&D capabilities, intelligent manufacturing capabilities, and engineering service capabilities, ENN Power is providing customers with stable, reliable, technical and economical micro and small gas turbine products and energy services, promoting various industries to green, low carbon, and intelligent transformation, supporting the national goal of carbon neutrality and carbon emission peak, and contributing to national energy conservation, emission reduction, energy security, as well as climate change globally.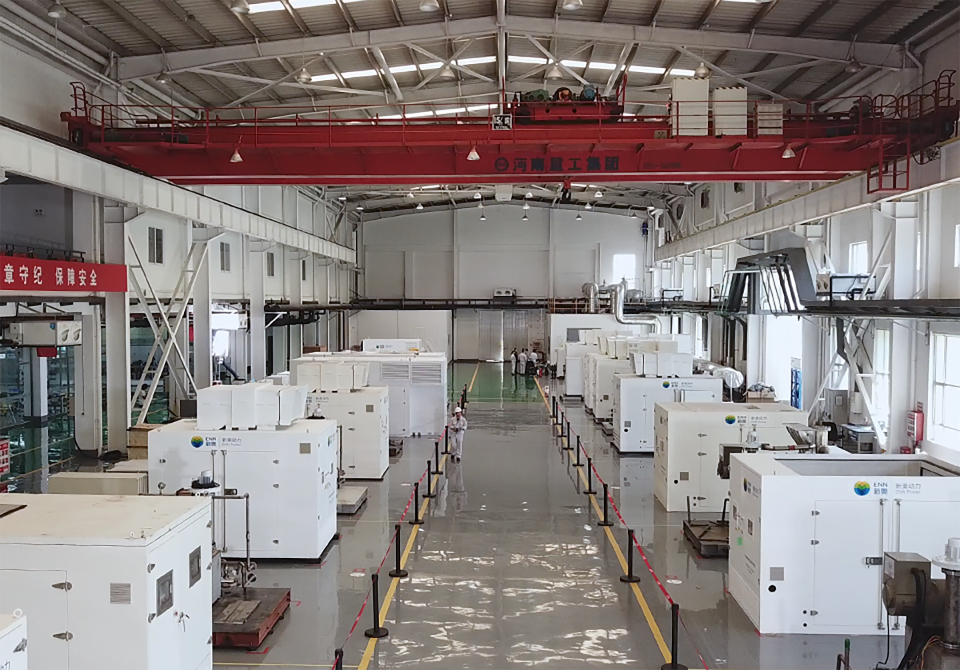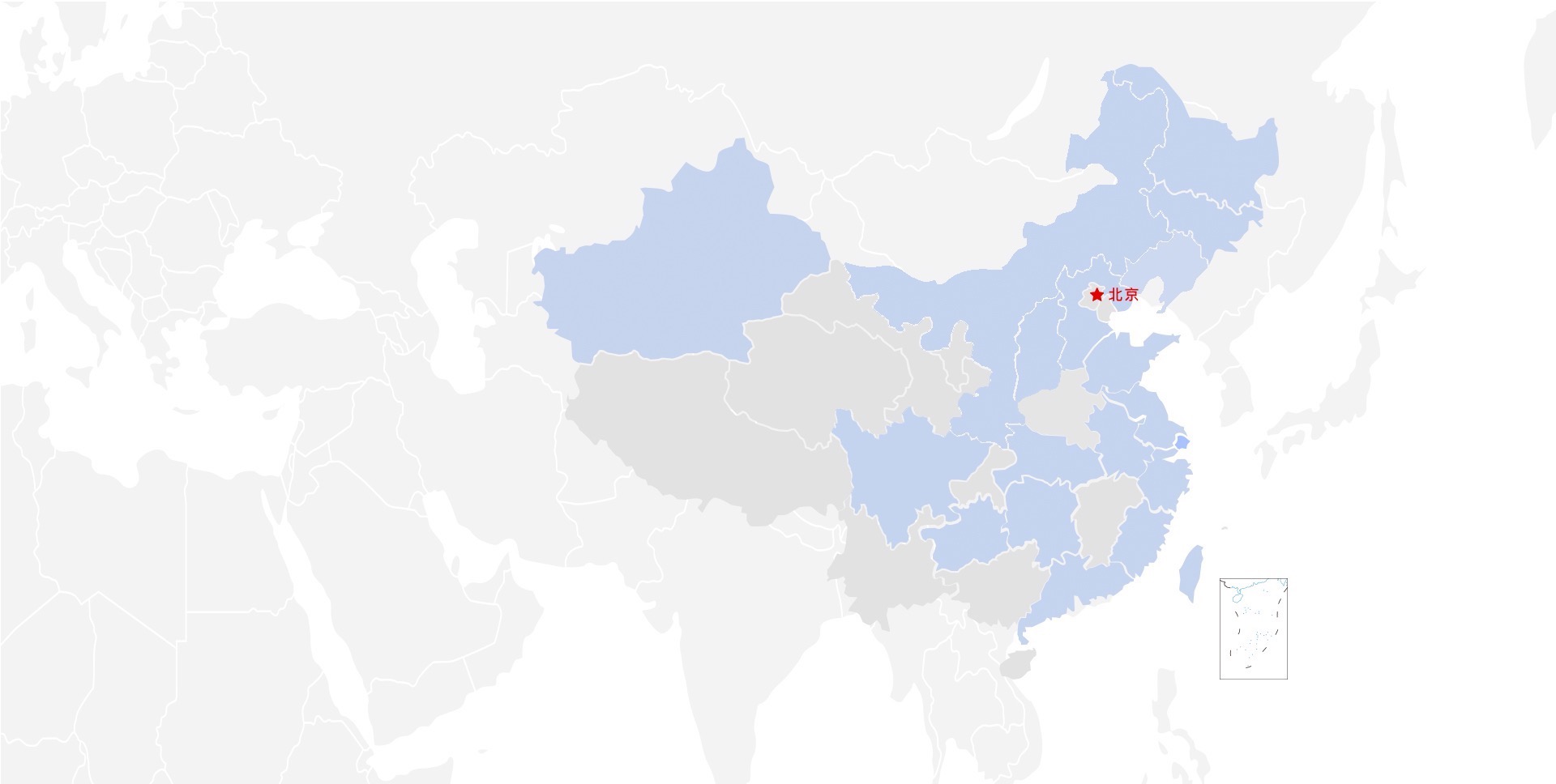 Business layout
Distribution of demonstration projects
February 2022
个Operating,个Under construction
Under construction

Operating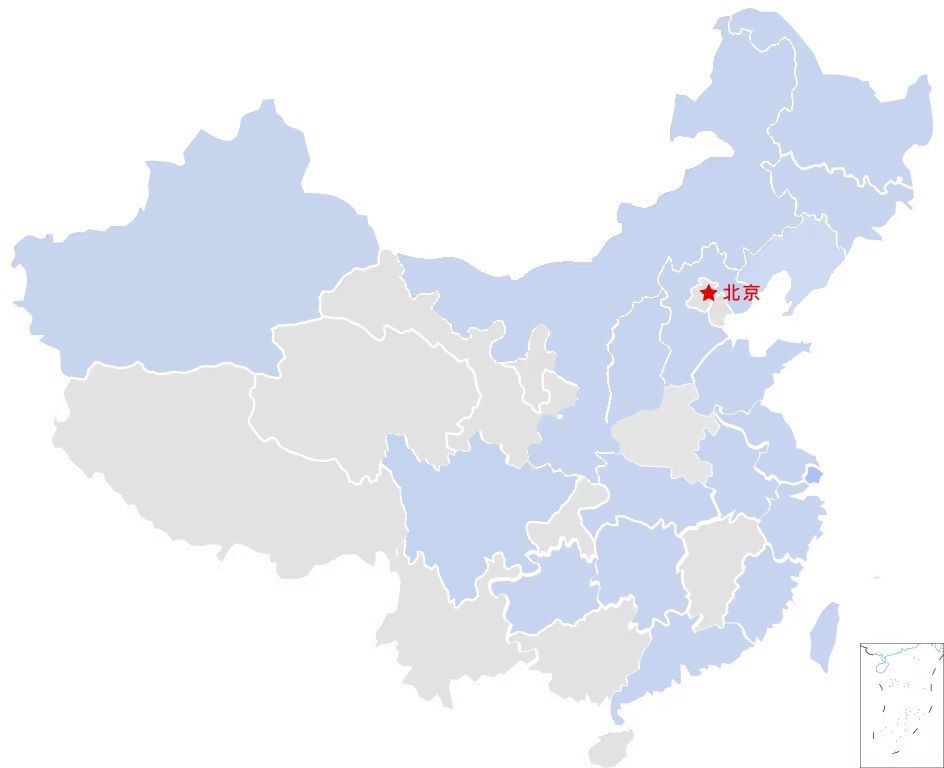 Shijiazhuang ENN Gas Control Center Pan-Energy Station

Micro Gas Turbine Type: E135 with Natural Gas
Application Scenario: Office Building | CCHP


Danailv Taiwan Taoyuan Pan-Energy Station

Micro Gas Turbine Type: E400TR-R with Biomass Gas
Application Scenario: Biomass Gas | CCHP


Hunan Changsha Yuanda Pan-Energy Station

Micro Gas Turbine Type: E390
Application Scenario: Commercial complex| CCHP


Hanzhou Yibeida Pan-Energy Station

Micro Gas Turbine Type: E150R with natural gas
Application Scenario: Textile industry | CHP


Huna Jinluo Food Pan-Energy Station

Micro Gas Turbine Type: E135
Application Scenario: Food processing | CHP
Delivery Time: June, 2021(planned)

Chizhou Chihang Machinery Pan-Energy Station

Micro Gas Turbine Type: E390 with blast furnace gas
Application Scenario: Blast furnace gas | CHP


Shaanxi Zinc Industry Pan-Energy Station

Micro Gas Turbine Type: E135 with zinc electric furnace gas
Application Scenario: Electric furnace gas | CHP


Langfang Pipeline Bureau Pan-Energy Station

Micro Gas Turbine Type: E150R
Application Scenario: Hospital | CCHP
Delivery Time: May, 2021(planned)

Shaoxing E390-R Project

Micro Gas Turbine Type: E390-R with Natural Gas
Application Scenario: textile, printing, dyeing, and chemical fiber | Power generation

Ruili Washing Pan-Energy Station

Micro Gas Turbine Type: E390
Application Scenario: Apparel Industry | CHP
Delivery Time:June,2021

Shengli Oil Field No.52 Connection Station

Micro Gas Turbine Type: E150-R with oil field gas
Application Scenario: Oil field gas | CHP


Xinjiang Baoming Mining Industry

Micro Gas Turbine Type: E390-R with shale oil gas
Application Scenario: Shale oil mining | Utilization of power and exhasut


Guizhou Shibing Chenggong Pan-Energy Station

Micro Gas Turbine Type: E135 and E390 with Yellow Phosphorus Tail Gas
Application Scenario: Phosphate Rock Industry | Power Generation


Lingang Cunyun Hotel Pan-Energy Station

Micro Gas Turbine Type: E150R
Application Scenario: Hotel | CCHP


Liaohe Oilfield Pan-Energy Station

Micro Gas Turbine Type: E2100
Application Scenario: Oil Gas industry | Exploitation of Heavy Oil by Steam Injection


An Oilfield in Northeast China

Micro Gas Turbine Type: E390
Application Scenario: Oil Field Gas | CHP


Shuguang Production Plant in Liaohe Oilfield

Micro Gas Turbine Type: E150R-R Oil Field Gas
Application Scenario: Oil and Gas Industry | CHP


ENN Jiaocheng Station

Micro Gas Turbine Type: NGDPE300 Natural Gas
Application Scenario: Differential Pressure Power Generation | Power+Ice-making


Transfer Project in Shengli Oilfield

Micro Gas Turbine Type: E390-R Oil Field Gas
Application Scenario: Oil and Gas Industry | CHP


An Oilfield in Shengli Oilfield

Micro Gas Turbine Type: E390+E390-R Oil Field Gas
Application Scenario: Oil and Gas Industry | CHP


Transfer Project in Shengli Oilfield

Micro Gas Turbine Type: E390-R+E150R-R Oil Field Gas
Application Scenario: Oil and Gas Industry | CHP


Xinjiang Hongji Coke Oven Gas Power Generation

Micro Gas Turbine Type: E2100 Coke Oven Gas
Application Scenario: Coking Industry | Integrated Utilization of COG


Utilization of Purge Gas in Xinneng Energy

Micro Gas Turbine Type: E2100 Methanol Purge Gas
Application Scenario: Coal Chemical Industry | Integrated Utilization of Purge Gas


ENN Ningde Differential Pressure Power Generation

Micro Gas Turbine Type: Turbo-expander Set
Application Scenario: Differential Pressure Power Generation with Natural Gas


Testing Rig Project at Institute of Engineering Thermophysics, CAS Lianyungang

Micro Gas Turbine Type: E150R-R
Application Scenario: Natural Gas | Testing Rig


Wenzhou Ruike Metal Process Station

icro Gas Turbine Type: E135
Application Scenario: Metal Process Industry | CHP


No.A Oilfield in Shengli Oilfield

Gas Turbine Type: E135 with Petroleum Associated Gas
Application Scenario: Oil and Gas Industry | CHP

No.B Oilfield in Shengli Oilfield

Gas Turbine Type: E135 with Petroleum Associated Gas
Application Scenario: Oil and Gas Industry | CHP

Lihong Ceramics Project

Gas Turbine Type: E2100 with Natural Gas
Application Scenario: Ceramic Industry | CHP

Baisheng Textile Project in Shishi, Fujian

Gas Turbine Type: E135 with Natural Gas
Application Scenario: Textile Printing and Dying Industry | CHP

Shanghai Shikangte Pharmaceuticals Pan-Energy Station

Micro Gas Turbine Type: E150R with Natural Gas
Application Scenario: Pharmaceuticals Industry | CHP

Guangzhou Dongyong Maiyan Pan-Energy Station

Micro Gas Turbine Type: E390 with Natural Gas
Application Scenario: Food Processing | CHP


Quzhou Central Hospital Project

Micro Gas Turbine Type: E135 with Natural Gas
Application Scenario: Hospital | CHP

Dongguan Huangjiang Industrial Park E390

Micro Gas Turbine Type: E390 with Natural Gas
Application Scenario: Industrial Park | CHP

Ziguang Park Technology Project

Micro Gas Turbine Type: E150R with Natural Gas
Application Scenario: Healthcare | CHP

ENN Huzhou Nanxun Project

Micro Gas Turbine Type: E135 with Natural Gas
Application Scenario: Textile Industry | CHP

Changzhi Lucheng Chuanglan Pan-Energy Station

Micro Gas Turbine Type: E135 with Biomass Gas
Application Scenario: Biomass Gas | Cogeneration of Power and Hot Water
Delivery Time: September, 2019

Shanghai Lingang ENN POWER Pan-energy Station

Micro Gas Turbine Type: E135 with Natural Gas
Application Scenario: Office Building | CCHP
Delivery Time: January, 2018

ENN Science Park Block C Pan-Energy Station

Micro Gas Turbine Type: E135 with Natural Gas
Application Scenario: Office Building | CCHP
Delivery Time: July, 2018
more >

Shanghai Jiuhuan Shibei Pan-energy Station

Micro Gas Turbine Type: E135-R with Natural Gas
Application Scenario: Gas Station | Peak Regulation for Renewable Energy
Delivery Time: December,2019

Lanxi Best Phase I Pan-Energy Station

Micro Gas Turbine Type: E135 with Natural Gas
Application Scenario: Electroplating | CHP
Delivery Time: April,2018
more >

Zhejiang Yongkang Kaifeng Pan-Energy Station

Micro Gas Turbine Type: E390 with Natural Gas
Application Scenario: Rubber and Tyre Industry | CHP
Delivery Time: Novembe,2019
more >

Shaoxing Chuangfubang Pan-Energy Station

Micro Gas Turbine Type: E135 with LNG
Application Scenario: Textile Industry | Cogeneration of Power and Gas Dryer
Delivery Time: June,2020
more >

Anhui Changxin Pan-Energy Station

Micro Gas Turbine Type: E135-R with Biomass Gas
Application Scenario: Biomass Gas | Power Generation
Delivery Time: September,2020

Taizhou Caizhiyuan Pan-Energy Station

Micro Gas Turbine Type: E390with Natural Gas
Application Scenario: Printing business| CHP
Delivery Time: December,2020

Qingdao Junmingsheng Pan-Energy Station

Micro Gas Turbine Type: E390 with Natural Gas
Application Scenario: Commercial Building | CCHP
Delivery Time:December,2020

Weihai Wendeng Economic Development Zone Pan-Energy Station

Micro Gas Turbine Type: E390 with Natural Gas
Application Scenario: Science Park | CCHP
Delivery Time: January,2021

Taizhou Caizhiyuan Phase II Pan-Energy Station

Micro Gas Turbine Type: E150R
Application Scenario: Color Printing and Packaging | CHP
Delivery Time: July,2021

Lanyan CBM Low Concentration Methane Power Generation

Micro Gas Turbine Type: E150R-R CBM
Application Scenario: Coal Mine Gas | Integrated Utilization of CBM
Delivery Time: August,2021